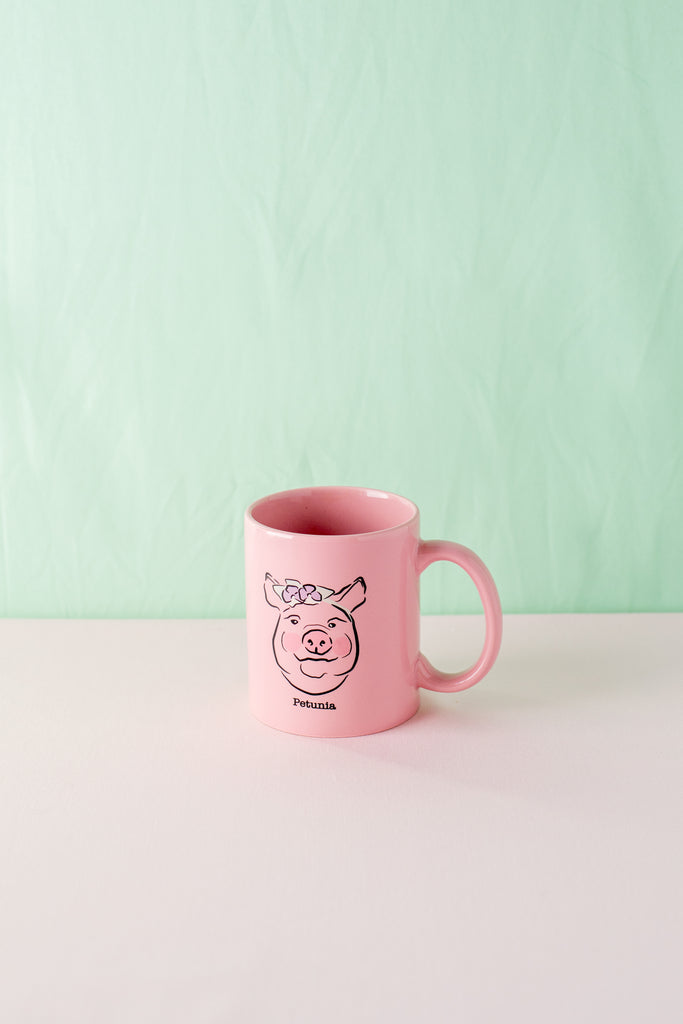 Information

Storage Instructions

Shipping Information
Brighten your day by cozying up to a nice hot cocoa, tea or cup of coffee in this adorable mug featuring our namesake piggie, Petunia! 
*Please note: Mugs are NOT dishwasher safe. Also,they are able to be shipped via UPS Ground, and that is the least expensive option. If you do not see this option at checkout, please select another shipping option (2 day, 3 day, etc) and complete the checkout process. Then email us at weborders@petuniaspiesandpastries and we can refund you the difference between the shipping method you paid for and UPS Ground, and send it out via Ground. 
For best quality, please read & follow our suggested storage instructions here.
We ship orders just once per week, on Tuesdays. We must receive your order by 9am PST on Thursday to ship out on Tuesday. If we receive your order after Thursday @9am, it will ship out on Tuesday of the week after the coming week.
Please read the rest of our our Shipping Information here.
Post COVID-19 update: UPS no longer guarantees any delivery days. Because of this, we are not able to/do not suggest shipping via Ground service in most cases to ensure that your order arrives in good condition and with the intended product quality. We HIGHLY encourage you to choose the fastest shipping speed available at checkout. We understand that UPS shipping fees are costly for services other than Ground, but their pricing is out of our control. Our products are all natural, hand made and delicate and therefore do not have a lengthy shelf life and generally require a quick shipping timeframe.
We cannot be held liable for damage to perishable products received in unsatisfactory condition that was shipped via UPS Ground service. Again, we HIGHLY suggest choosing the fastest shipping method available and UPS Ground for our perishable items is not suggested.
PLEASE NOTE: This site is for shipping orders only. To inquire about anything else please visit our main website at www.petuniaspiesandpastries.com.